>> Company Profile
SABUY TECHNOLOGY PUBLIC COMPANY LIMITED
SABUY TECHNOLOGY PUBLIC COMPANY LIMITED
inaugurated by Thai owners – started business with
online top-up machines. Afterwards, the company keeps
expanding business fields with an objective to be the
fintech leader in Thailand,
with our own practical ecosystem which answers the Thai market's needs
Today SABUY is continually growing into many business fields
SABUY applies technologies to products and services, suitable to nowadays Thai lifestyles and ready
to surpass any limitations
"TO BECOME THE LEADER OF FUTURE FINTECH BUSINESS."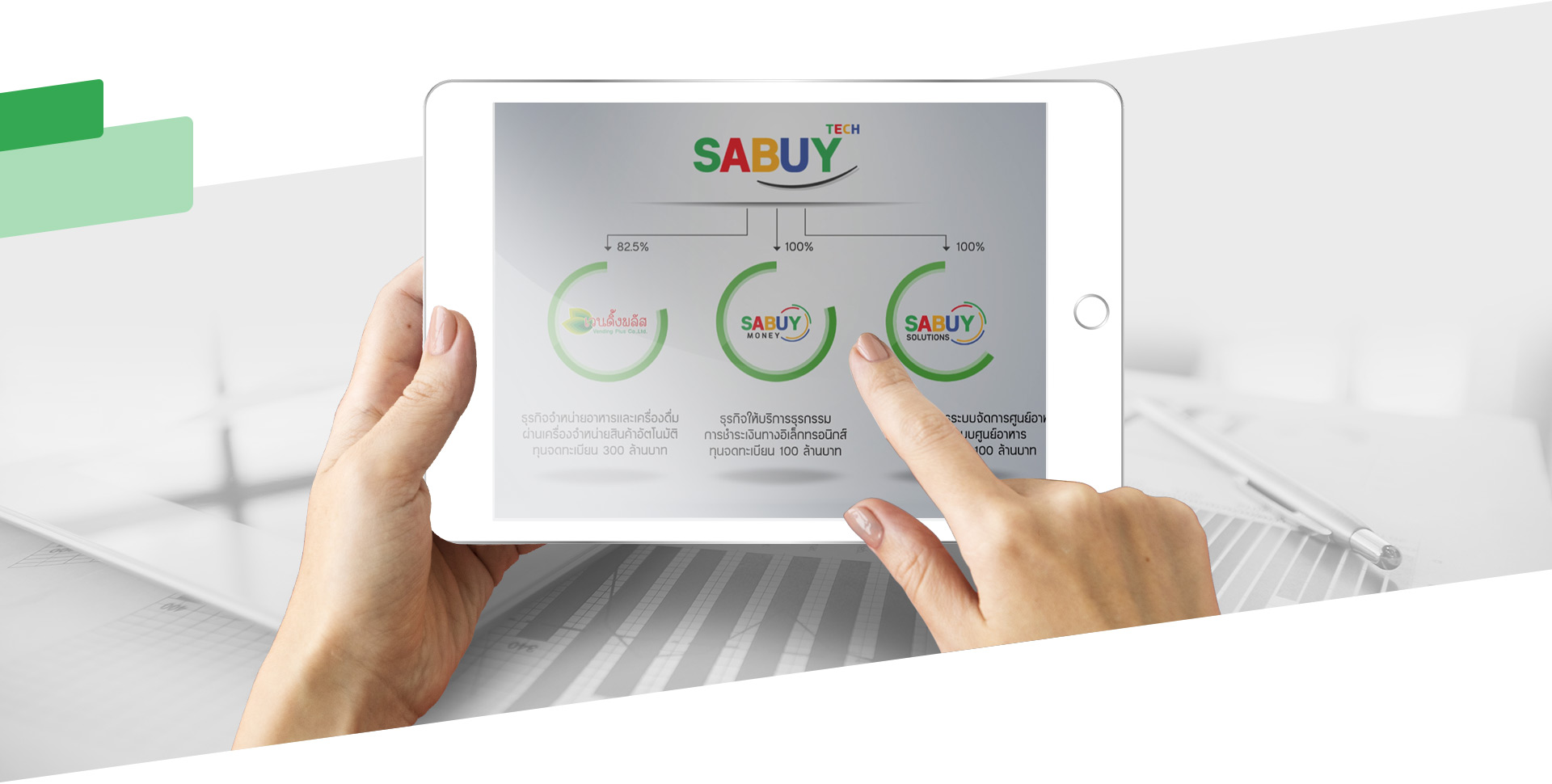 SABUY'S TIMELINE
2016
Vending Corporation Company (developed into SABUY Technology Company later) was established with a vision to
facilitate every community with our products and services by the technology designed by Thais for Thais. Our products
started with automated top-up machines branded "AJ Term Sabuy", then vending machines branded "Vending Plus". The
company increased registered capital from 1,005 MB to 1,255 MB, and was able to distribute around 30,000 kiosks. Those
successes can be recognized as a blueprint for other business units under the great umbrella named SABUY Technology
Limited Company.
2017
SABUY Technology Company Limited focused more on brand awareness and decided to rebrand the existing top-up
machines to "Term Sabuy Plus". Then there were more than 40,000 kiosks nationwide.
In addition, we keep developing our product to expand into a new business which is the food court system and manage-
ment, under the name SABUY system and management Company Limited. We subsequently changed the name to SBS or
SABUY Solutions Company Limited in order to create our own Ecosystem and many business opportunities. In 2017, the
company managed over 200 food courts nationwide.
2019
The company distributed automated top-up and vending machines countrywide. We launched "6.11 Vending Machine
Store" on 6 September in the Phetkasem-Bangbon area and a brand-new food court system at Fashion Island and devel-
oped "SABUY WASH" for automatic washing machine service.
In the same year, we officially became "SABUY Technology Public Company Limited" on 26 February 2019.
2020
SABUY Technology Public Company Limited was listed on Market Alternative Investment (MAI) by the Stock Exchange of
Thailand (SET) on 11 November 2020.
2021
On 16 March 2021, SABUY Technology Public Company Limited was transferred from MAI to the Stock Exchange of
Thailand (SET) listed in the commercial business sector.
SABUY Technology Public Company Limited has been collaborating and investing with many business partners into many
fields with an objective to provide the most efficient SABUY ecosystem, as well as to become Thai leader fintech
company in many aspects.